Food Processing Automation and Controls
FZ has partnered with local food manufacturer, Litehouse, since 2016, providing plant floor solutions at their Michigan, Idaho, and Utah plants. Our team has installed and performed regular plant floor electrical and industrial tech maintenance on Litehouse's plant floor mixing decks where their signature dressings are produced and packaged. Our team tracks and maintains historical data on all deck equipment such as mixers, mills, processors, and pumps as well as batch activity and the state of each production step.
In addition to controls and automation, our team also has helped Litehouse apply the benefits of Industry 4.0 to their plant floor through Ignition, an Integrated Software Platform by Inductive Automation. Using Ignition, Litehouse is now able to securely create and manage batch recipes. Ignition interfaces with Litehouse's ERP information and creates a manageable platform for recipe designers to interface. Currently Ignition is run throughout all of Litehouse's plants and stores over 800 recipe variations.
Prior to our work, Litehouse would manually batch their recipes, scaling them up or down by working within a PLC or by hand, a tedious and error-ridden method. Now with Ignition and our custom-built Batch Automation Service, they're able to auto-batch recipes to increase throughput and yield within the platform, allowing for the correct ingredient amounts and order of production events to happen. The Batch Automation Service also monitors the status of production so that real-time feedback is logged and displayed. This not only saves time, but also increases quality, efficiency, production, batch consistency, and visibility.
Ignition also stores and sorts the recipes by different levels, from development to testing to approved production, these classifiers sync with equipment that only allow a certain level to run. In addition, each deck is aware of the devices in its toolset that are configured to handle specific material and processes, allowing the deck to automatically change to fit the necessary requirements of each recipe. The platform also increases compliance with food quality standards throughout the process and allows for the ability to record production runs for future review.
Customer:
Litehouse
Location:
Lowell, MI; Sandpoint, ID; and Hurricane, UT
Related Keywords:
Food, Processing, Controls, Automation, Engineering, Wiring, Power, Displays, Food Processing, FDA, Food and Beverage System Integrators, Plantwide Networking Solutions, Litehouse, Ignition, Inductive Automation, Batch Recipes, Food Processing Electrical and Automation, Food Processing System Integrator, Food Processing Automation and Controls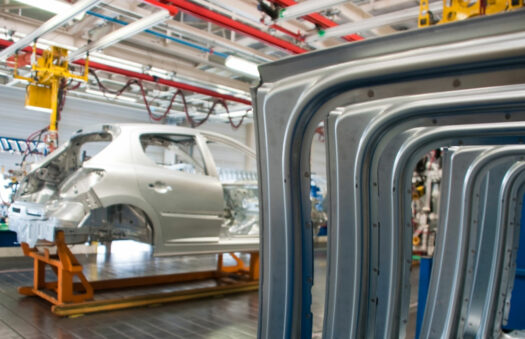 FZ has served as a dedicated partner for a local automotive part manufacturer providing controls,
...
Questions about this case study?