Manufacturing Execution Systems (MES) are well known as the traditional way of streamlining operations, managing assets, collecting production data, and enabling traceability on the plant floor. For the past 30 years, MES systems have been commonplace on the plant floor, with manufacturers understanding their benefits and having utilized their technology for years. Within the past five years, IIoT has entered the scene as the new kid on the block. Providing simplified, streamlined, and accessible value for manufacturers, IIoT systems are challenging the MES monopoly.
Driving similar goals, manufacturers are now posed the decision to either ignore IIoT altogether and risk losing competitive advantage, amend their current MES system to expand functionality, or replace their current MES system with an IIoT solution.
But looking at IIoT vs. MES systems, how do they compare?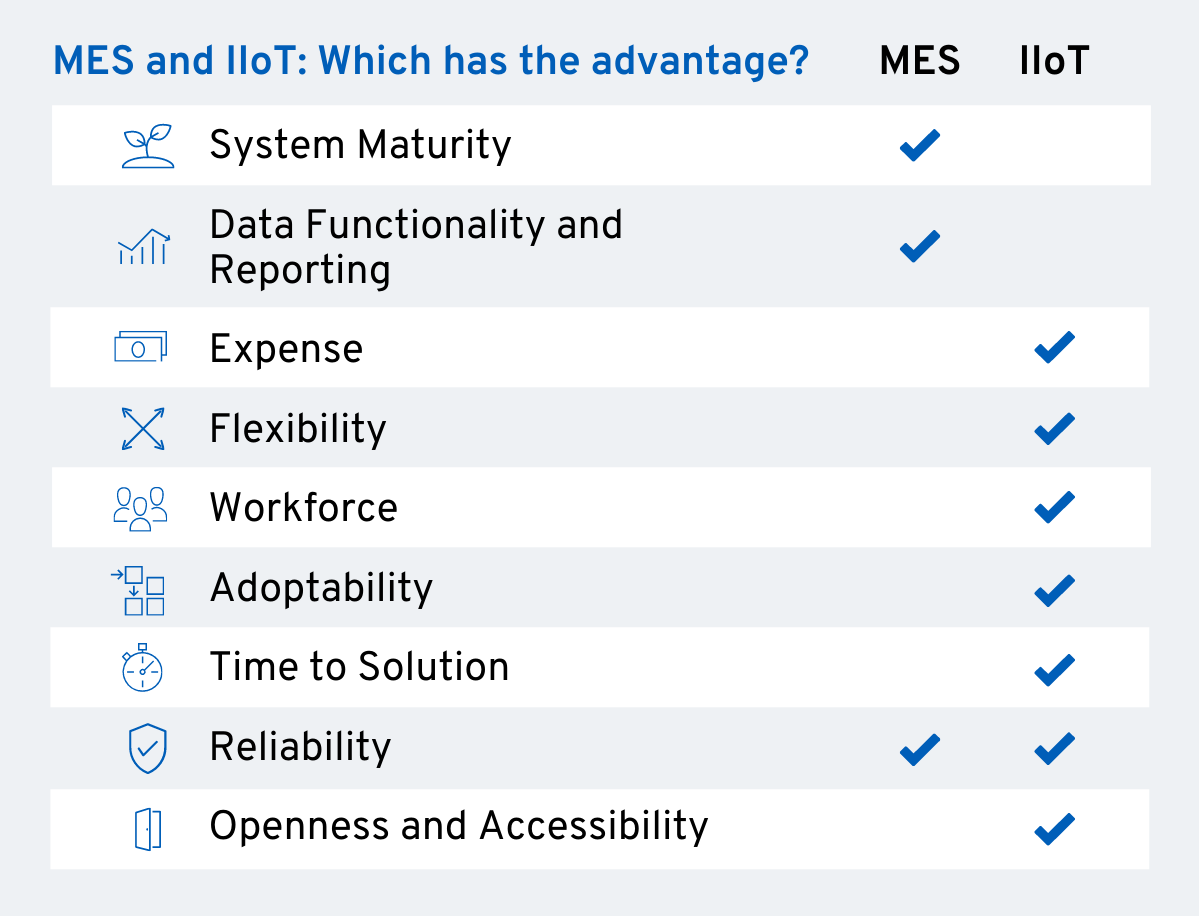 System Maturity
As a mature system, MES platforms have been around for over 30 years, making the technology more refined and holistic than its IIoT counterpart. Just gaining popularity in the past 5 years, IIoT systems are still in the process of being improved and fine-tuned as an out-of-the-box solution. Being time-tested and approved, MES systems seem like the safe choice. But according to Gartner, the MES market is generally seen as a replacement market, with roughly 80% of manufacturing dollars spent on MES going towards replacing legacy systems. This has propelled many to fear that MES systems are not future-proof and may not be able to adapt or keep up with the ever-improving IIoT platforms.
Data Functionality and Reporting
Develop and implement cyber security procedures and practices to protect your business operations. Your current and future employees should be trained so that they are aware of the expectations and potential risks they pose to the network. Review your policies with a legal professional in order to ensure that they are compliant with local laws and regulations. Policies and procedures should be reviewed annually to ensure that they include any changes or updates to your organization, network, or structure.
Expense
MES systems are more expensive out-of-the-box but require less programming to achieve the desired outcomes. IIoT systems, on the other hand, are less expensive out-of-the-box but can require additional programming costs to achieve desired functionalities. MES solutions also require costly, manual apps and updates, whereas IIoT is generally consumed as a cheaper, subscription-based cloud service. Cloud computing means that IIoT systems provide scalability, high availability, and more affordable pricing.

Flexibility
As a centralized solution, MES systems thrive within their specific functionalities but fail to connect or work outside of those boundaries. As a microservice-based solution, IIoT systems are flexible and agile and are able to combine and connect sensors, devices, systems, applications, data flows, the network, and different users. By combining IIoT platforms, organizations can build new applications for their processes and iterate upon those applications without upsetting the broader system.
Workforce
The aging workforce means that there are a decreasing number of engineers available who specifically focus on MES solutions. Since MES solutions require complex programming to modify, a shortage of experienced labor can be extremely detrimental to the future of MES. The younger generation of engineers however is more focused and familiar with IIoT-applications and technologies.
Adoptability
MES systems are designed to speak the language of an engineer, not the front-line worker. As a hard-coded application, MES systems can be hard to manage and modify. As they are often custom-coded, making changes requires a professional developer to make adjustments, leaving control out of the manufacturer's hands. IIoT platforms are more intuitive and easy to understand for front-line workers, allowing control to sit with those who use the data every day.
Time to Solution
Another major difference between IIoT and MES systems is the time to solution, or simply the time it takes to implement. MES systems require higher infrastructure costs but are easier to configure. Overall, they have a slower development timeline that generally takes a few months. IIoT systems on the other hand can be relatively seamless in deployment owing to their cloud capability. Out-of-the-box, they can take days to weeks to deploy. One thing to note though, as we've mentioned before, out-of-the-box IIoT systems offer 40-70% of an MES system's functionality. In order to reach full MES functionality, considerable programming is required which extends an IIoT system's time to solution.
Reliability
Part of the cost associated with an MES system is the network infrastructure needed to support it. IIoT, on the other hand, is cloud-enabled and can be deployed quickly without a network connection. To some, this is a benefit. To others, this is a challenge. On-premise storage and connection provide reliability that the cloud cannot. For many manufacturers, IIoT or MES, the information and data stored within the system are critical to production and must be stored or backed up locally. So, even if the system doesn't require a network infrastructure, it may still need it – just on a lighter scale.
Openness and Accessibility
MES tend to be vendor-specific and proprietary, so industrial manufacturers can only work with their vendor's modules and apps. This provides the manufacturer with little to no control over the applications they develop and deploy. IIoT systems on the other hand are much more flexible, allowing manufacturers to combine and switch technology.
---
Taking the time to understand IIoT vs. MES can help avoid confusion and issues down the road. Still overwhelmed or unsure about IIoT technology? Our team has years of experience leading and supporting digital transformation journeys. We're ready and willing to provide advice, insight, and feedback that will help you set your team up for success.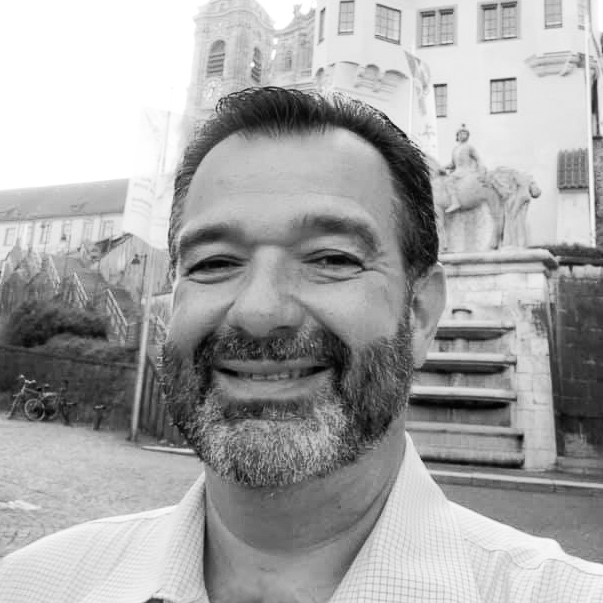 Practice Leader, Digital Manufacturing Solutions
Leave a question or comment: