Highly skilled thinkers and doers shaping the electrical and industrial tech industries with innovative solutions.
Bob Zylstra and Marlin Feyen started Feyen Zylstra in 1980 with one simple vision: to be the first-choice electrical resource in the market. Since our humble beginning, Feyen Zylstra has grown to become a national, forward-thinking electrical services and industrial tech firm serving a wide range of customers with diverse needs.
FZ exists to have a positive impact on the lives of people.
We do more than just talk
about having a positive
impact.
We live it out every day. Since the start, Feyen Zylstra has existed to make a difference, but in 2016, we took it a step further with our program FZimpact. Each year, Feyen Zylstra employees are offered eight paid hours per year to give back. Hundreds of employees have participated, making a positive impact on causes around our community, including environmental protection, hunger, homelessness, and at-risk youth.
If you are a nonprofit looking for volunteers, we'd love to hear from you. Get in touch at fzimpact@fzcorp.com.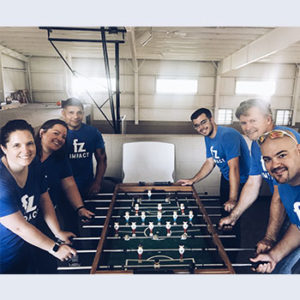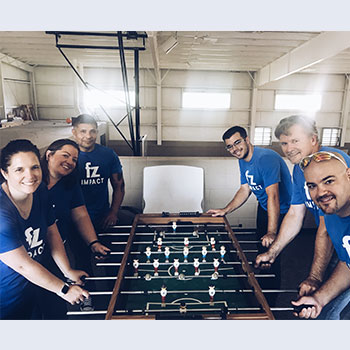 A Safe Place for Play
FZers volunteered at the Attic After School program for local teens. The team moved furniture and took a shot at the foosball table!
Kid-Ready & Approved 
Our dedicated first year apprentices gave their FZimpact hours to a kid-approved cause. When a storm damaged cabins at Lincoln Lake Campground in Gowan, MI, FZers stepped up to replace wiring and install fire alarms just in time for a June opening!
A Good Night's Rest
Aaron used his FZ Impact hours to build bunk beds for needy children at the Sleep in Heavenly Peace event in Manton, MI. With Aaron's help, 30 kids now have a bed of their own.
Healing with Smiles
FZers make the difference! Judd from Industrial Tech volunteered at Healing with Hope and Happiness, a local charity that supports kids in long-term medical care who need extra smiles and fun during a tough road of treatment.
Walking with Hope
We walk the walk when it comes to making a positive impact. Three of our Nashville employees walked to raise breast cancer awareness for women of color at the annual Sista Strut. Thank you Samar, Qwamir, and Thomas!
Community Building 
Our finance team used their FZimpact hours to help the YMCA sort and organize the items in their storage facility.
A Place to Call Home 
One of our Traverse City FZers, Robert, used his electrical skills while volunteering for Friendship Family Homes.
Helping our Furry Friends 
Renee, our Application Developer, used her FZimpact hours to volunteer at Carol's Ferals fundraising event!
Tech Forward
At FZ, we exist to have a positive impact on the lives of people. Robert carried out this mission by using his FZimpact hours to help with the Jenison Robotics VEX IQ Tournament. It empowers kids in 4th-6th grade to build and program robots.
Summer Camp Ready 
Kalamazoo team members spent the day chopping wood, cleaning up trails, and installing a new electrical panel at Pretty Lake Camp. Since 1916, Pretty lake has provided free summer camp for Kalamazoo County kids.
Spreading Holiday Cheer 
Trevor in IT, used his FZimpact hours to assemble bikes for Elves and More West Michigan, an organization that provides gifts to an entire neighborhood of children each holiday season.
Environment Friendly 
Michael, one of our Charleston team members, used his FZimpact hours to install oyster beds- this will help slow down erosion on the banks of Drum Island. Thanks for having a positive impact, Michael!
Clean Water Mission 
A team from our Charleston branch volunteered for Water Mission, a nonprofit focused on building sustainable solutions for people suffering form water scarcity.
Next Gen Construction 
"I used my FZimpact hours to teach preschoolers about the construction industry. I work in the prefabrication shop so I brought in EMT and tools, and the kids were able to build dinosaurs! The day even included a trip to their boiler room so they could see how EMT is used in a real world setting." –Mandy Richardson
Strong Students, Healthy Schools 
Kurt one of our FZ team members, used his FZimpact hours to volunteer for Sparta School's WATCH D.O.G.S. program! He had the chance to help out in the classroom with math and reading. Kurt also provided lunch room assistance and helped teachers with classroom prep. Way to go, Kurt!
Leading by Example 
Opportunities for making an impact are endless! Our project coordinator, Kim, used her FZimpact hours to help out at East Cheatham Elementary School with her daughter.
Food and Hope
Ken has been a faithful volunteer at the Streams of Hope Food Pantry for years. "I help clients do their shopping, assist them in taking groceries to their vehicle, stock shelves, clean, and help out with the facility maintenance. I chose to use my hours here because they provide food assistance to hundreds of families every month."
Protecting Nature's Beauty 
For the second year in a row, David used his FZimpact hours at the North County Trail Association.
We believe great leaders build great cultures by empowering others—and that's exactly what our team does everyday.
People make the place, and we've got some of the very best. At FZ, leadership is more than a job title. Our leaders understand the importance of building great culture, producing amazing results, and developing those around them.
Adam Van Wyngarden
Senior Estimating Manager
Ana Garcia
Director, People Services
Brandi Didlott
Director, Corporate Safety
Bryan Perkins
Sr Field Operations Manager
Derek Hunderman
Director, Sales & Operations - West Michigan
Mark Dornsife
Director, Sales & Operations - Charleston
Neal Kooiman
Sr Field Operations Manager
Roy Cuny
Director, Prefab Solutions, Virtual Design & Construction
Russ DuShane
Operations Business Leader
Scott Aikens
Director, Operational Excellence
Trey Wade
Director of AV and Systems Solutions
Troy Myers
Operations Business Leader
Ann Harten
CHRO, Vice President of Global Human Resources, Haworth
Hiren Thakar
Chief Strategy Officer, AVISION YOUNG
John Thayer
Former Vice President of Sales & Business Strategy, OST
Ken VanDerWende
Chief Commercial Officer (CCO), Executive VP, Velatura
Kirk Alter
Professor Emeritus at Purdue University