We solve problems with technical
expertise, and we have a good
time doing it.
As we always say, if it has a wire, we take care of it. Our capabilities are wide, and our knowledge is deep, so we've seen just about everything there is to see in the electrical services industry. That's how we know our customers' needs are unique, and their solutions have to be too. From the plant floor to a high rise, our team is skilled in providing turnkey solutions in a way that's simple and enjoyable from start to finish. Whether we're coordinating a large facility shutdown for routine maintenance or an unexpected repair, we offer the power of a large team with the ease of a single point of contact.
"I consider myself very fortunate to have the caliber of project management and field technician skill levels at my disposal that Feyen Zylstra provides when working on many of our large infrastructure projects and voice network operation support. They support us by providing a high level of attention to detail, understanding of network connectivity, and professionalism. They work within our time constraints and will offer design improvements that are beneficial to the ongoing developments of our infrastructure. This area of telecommunications is highly competitive, and within our organization in order maintain the relationship, respect must be earned. Feyen Zylstra has earned my respect."
-Gerard Wood, Director of Communication Infrastructure, Alticor
"We are very pleased with all aspects of their work including site management of the superintendents and foreman, office support, level of skills of the electricians, quality of workmanship, safety awareness and willingness to do whatever it takes to get the work completed. Their experience in working in a food and dairy facility makes Feyen Zylstra one of our preferred contractors and we plan to include them on all future bid packages at this facility."
-Gerry Dryer, Project and Construction Manager from Faithful + Gould, General Mills Yoplait
"FZ's employees have proven to be team players and problem solvers that bring solutions to the table. They're also pleasant to work with. They are dedicated to our team and provide strong BIM and prefabrication capabilities that have added value to multiple projects."
-Jamie Erbes, Project Manager, Christman Co.
"FZ continually demonstrated, from the initiation to the completion, their willingness to be a team player to complete the project successfully. Their ability to provide engineering design and review has been a true value added to the projects in terms of accurately defining the deliverable, improvement to project schedule, and optimizing project cost. All of the team members they had involved brought an attitude of cooperation and high standards to the project."
-Jeff Tutman, Vice President and Senior Engineering Manager, Kajima Building & Design Group
"Feyen Zylstra is the pinnacle of what others want to be. As innovators, their leading edge translates from the top of the office all the way to the field. In all of the projects we have worked on together, we have always been confident in their competence and ability to get the project done the right way."
-Mike Novakoski, President and CEO, Elzinga & Volkers
"Feyen Zylstra has performed excellent work for JBS Plainwell, many times bending over backward to help solve multiple problems. They have provided us support that has surpassed our standards when others in the industry have not come close. When we went through a transformer failure, FZ was able to restore power in only one shift. Our corporate management informed us that if this had happened at any other plant it would have been down for a week. We are very impressed by FZ's abilities and are thankful to have them as a partner."
-Rick Nash, DC Superintendent, JBS Plainwell
With more than four decades of experience in the electrical field, we've earned a reputation for top-notch and on-time completions, even on the most challenging projects. From embedded support to coordination studies and power analysis to factory shutdowns with a hundred electricians and technicians, we solve problems for our customers so they can keep doing what they do best.
24-Hour emergency service
Arc flash studies
Bucket truck
Electrical construction
Electrical power and automation installation
Embedded on site support
Hi-pot testing
Infrared thermography testing
Lighting controls, programming, and layout
Low and medium-voltage distribution
Machine troubleshooting and electrical repair
Material and equipment procurement
Megger testing
Onsite machine wiring
Plant floor maintenance
Power quality metering
Preventive maintenance
Switchgear cleaning and inspecting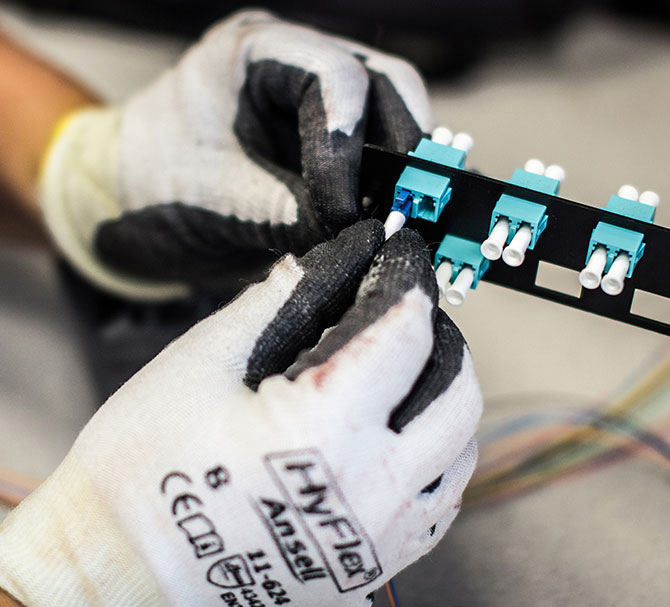 When it comes to creating comfortable, connected, and secure workplaces, our Systems team has seen it all and installed it all. From full systems like fire alarms, access controls, and nurse calls to technology support like fiber optic, patch panels, and copper backbones, our skilled technicians are experts at safe and effective system installation.
Access control cards
BISCI and RCDD certified technicians
Building automation systems
CCTV camera systems
Data center solutions
Data rack installation
Distributed antenna
Fire alarm installation
Fiber optic cabling
Lighting control
Paging
Structured cabling
System integration
Unified communications
Wireless/wireless access points
We're firm believers that technology should work for you, and not the other way around. So, when we start any audiovisual project, we think about how real people will use the space. We put people before technology, making sure every detail behind the scenes is meticulously thought through and implemented, so people can connect intuitively, do what they need to do, and get on with their days.
Digital signage
Interactive technology
Room scheduling
Sound masking
Sound systems
Technology designs/consulting
Video walls
Video/audio conferencing
Wireless presentation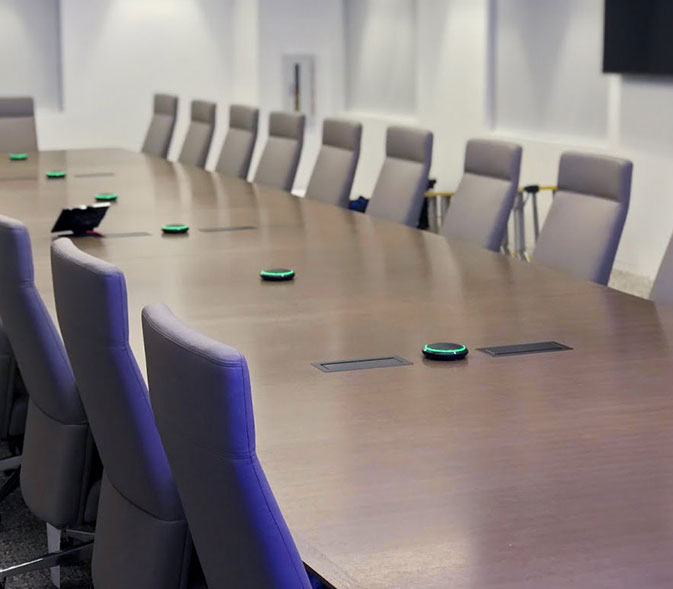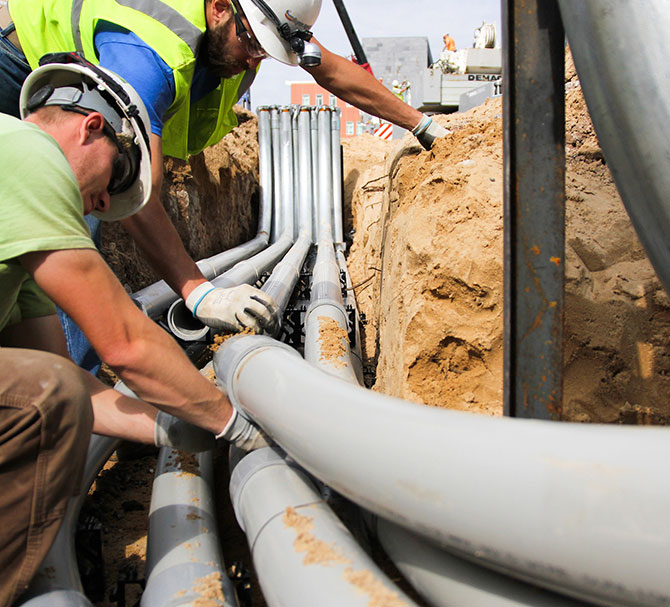 Digging trenches, operating powerful equipment, installing large amounts of conduit in a short amount of time—our Outdoor Solutions team members are the unsung heroes of some of our biggest projects. Their behind-the-scenes planning, scheduling, and expertise provide critical infrastructure for construction and maintenance projects, keeping job sites safe and production on schedule.
Duct bank and manhole installation
Light and utility pole foundations and setting
Medium-voltage cable and outdoor equipment terminations
Jobsite services including temporary power
Outdoor equipment installation
Transformer setting and heavy equipment rigging
Trenching, excavation, and vibratory plowing
Underground conduit and cable installation
Utility locating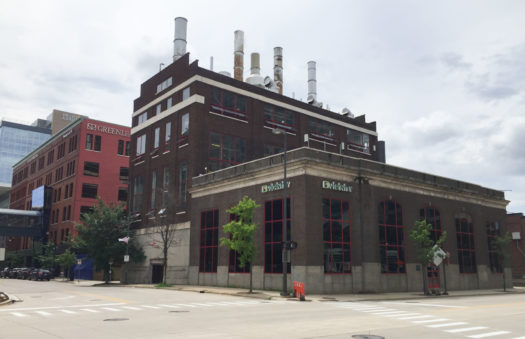 Vicinity Steam Plant Vicinity Steam Plant In 1888, the Grand Rapids Edison Light and Fuel…
...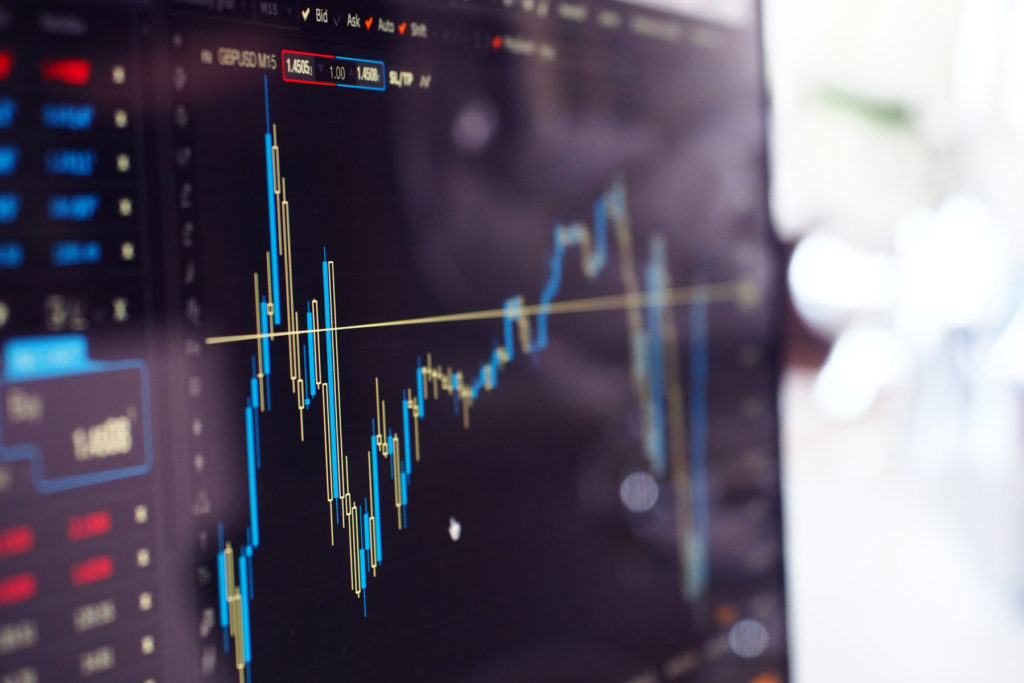 Predictive Analytics & Health Monitoring Webinar Secure remote access with health monitoring systems is critical for sustaining operations. COVID-19 …