We interviewed Jimmy Martin, Electrical Journeyman at FZ's Charleston, SC branch, to better understand his experience as an FZ employee and as an apprentice. Check out what he had to say!
What made you interested in the trades?
"I had some prior experience in the electrical field and knew that I wanted to do something where I could work with my hands. I also knew that a career in the trades was very stable and in high-demand, so it seemed like a good opportunity."
How did you find FZ?
"Honestly—through a simple Google search. I noticed that they offered the learn-while-you-work apprentice program that I was interested in. It also just stood out as a reputable company."
How long have you been working at FZ?
"I've worked at FZ for nearly five years. I joined as a first year apprentice, working full time and taking one night class a week until last year when I graduated. I've since gone on to take (and pass) my Electrical Journeyman's Exam. All that to say, I currently work as an Electrical Journeyman in Charleston's Electrical Service Group and am hoping to take my Master Electrician exam in the next month."

What have you enjoyed about FZ?
"Obviously I appreciate the benefits—good pay, good health insurance, good perks. I also really enjoy the work I get to do. I get to work on a broad spectrum of all types of electrical work and am not pigeon-holed into one type of thing. We have a saying in the field that we get to work on everything from 'millivolts to lightning bolts.' I love the variety and feel like I'm never bored.

I also have to say my supervisor, Mike Branham, has been super supportive throughout the years and is a major reason why I love working at FZ."
Can you talk about your time as an Apprentice? What was it like?
"It was good! Overall, I appreciated being able to work full time and make money while taking a night class one night a week through CECA (Charleston Electrical Contractors Association). I didn't ever feel too overwhelmed by the experience and appreciated being able to learn onsite as I was learning in the classroom at night."
Did you feel prepared for your exam?
"I was definitely nervous going in. It wasn't that I didn't feel prepared, it was just knowing that I had been working for four years towards this goal. After taking it though, I felt like I was very well-prepared."
You recently competed at the Ideal National Championship's Elite Electricians Competition. Can you tell me about that?
"Yeah, this was actually my third year representing the State of South Carolina at the Ideal National Championships. Basically, Ideal Industries travels around the nation, performing qualifying boards where they test electricians and apprentices on different tasks. The top times for each state then compete at a national level. In 2018 and 2019, I competed in the Student/Apprentice category. In 2019, it was actually an International competition and I made it to the semi-finals and placed 7th overall. Recently, I competed in the 2021 Ideal National Championships as a Professional. It's definitely high-stress, but a really cool opportunity."
What would you say to someone who is considering the trades as a career choice?
"Do it! It's a worthy and fulfilling alternative to going to college. With our industry in such high demand, there are so many opportunities and ways to be successful."
---
Interested in an Electrical Apprenticeship at FZ?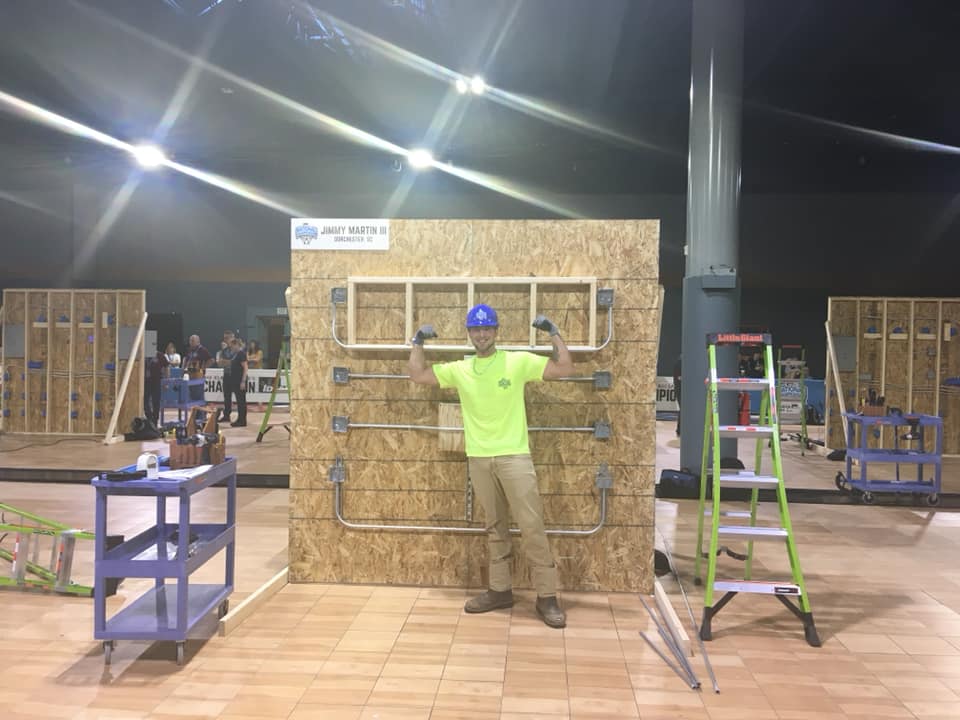 Jimmy Martin competiting at the Ideal National Championships in 2019
Leave a question or comment: